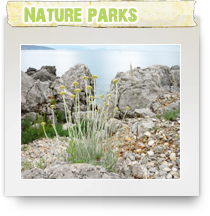 Croatia has 10 nature parks. Nature parks are areas around Croatia with exceptional ecological, cultural, historical, aesthetical, tourist and educational characteristics.
Biokovo is the largest and highest mountain in Dalmatia. It rises vertically from the Adriatic Coast to height of 1762 m.
Biokovo is a branch of Dinaric Alps structure, mountain chain that stretches from Slovenia, through Croatia, Bosnia and Herzegovina via Montenegro to Albania. Biokovo, as well as Velebit Mountain is the only part of Dinaric Alps that gets so close to the sea.
Biokovo has 16 different peaks that are higher of 1400 m. Major peaks include: Sv. Ilija - 1640 m, Sibenik - 1314 m, Stropac - 1145 m, Vrsac - 1411 m, Sinjal - 1333 m.
Because of it's geographical position, Biokovo is a mountain that has continental as well as Mediterranean climate, so various plant species of both worlds meet and live next to each other. There are lot of caves and pits around Biokovo and very often one can meet wild muflon as well as various bird species and foxes too. The Biokovo Botanical Garden Kotisina has been established in 1984 above the village of Kotisina, a horticultural monument (16.5 hectares) aimed at nature conservation and protection of the Biokovo plant life.
The views from Biokovo are spectacular – on the clear day one can see all Dalmatian islands as well as large part of Dalmatian coast to the south, and to the north, towns of Vrgorac and Imotski and their surrounding villages. Sometimes, when it's very clear, one can see a peak of Monte Gargano in Italy too.
The coastal town of Makarska, that lies on the very south edge of Biokovo is seen from Biokovo as a amazing bay with tiny little houses placed in the rows around it.
The nature park Biokovo dominating above Makarska Riviera, is the good destination for botanists as well as walkers and cyclist.
Biokovo is the mountain that one can visit either by car or bicycle as well as on foot from various parts of Adriatic coast and Makarska Riviera. There is public transport service going from Makarska and surrounding area to Biokovo Mountain. Access from the coast : Makarska - Makar - Vosac - Sveti Jure (5 hrs 30 min) or Makarska - Tucepi - Staza - Sveti Jure (asphalted road, 31 km).
Kopacki Rit is Croatian Nature Park located in East Croatia in area called Baranja – Croatian very eastern border with Serbia. Kopacki rit is a nature park located very near the point where river Drava and river Danube joining together, carrying on further towards the Black Sea.
Kopacki Rit is worth visiting as it is a unique area of rich plant and animal life, and is considered as important and largest preserved wetland in Europe.
Kopacki Rit is home to rare birds, marshes and lush vegetation. The 42,000-acre park is covered in lush vegetation and is home to about 250 bird species, including rare varieties such as the black stork as well as wild goose, wild duck, big white heron, white stork, black stork, white-tailed eagle, big crow, coot, seagull, tern, kingfisher, woodpecker, green woodpecker ....
A part of Kopacki Rit has been designated as a special zoological reserve.
Kopacki rit can be visited by boat or by foot. The nearest airport is Osijek airport . There are organized guided tours around Kopacki Rit that can be booked in Osijek. There is special tour for bird watchers too.
Angling and hunting is allowed in some parts of Kopacki Rit, but the rest of the park is under strict protection and any kind of disturbance to nature is not allowed.
Kopacki Rit area has it's own gastronomical specialties such as fish stew, grilled carp, or venison - all of this is on the offer in local restaurants.Accommodation
Kopacki Rit area got it's special status in the 17th century by Austro-Hungarian Empire and the area keeps it's unique reputation nowadays too. Its wetlands, flooded for at least three months a year, are one of the largest spawning ground for freshwater fish in the whole Danube River.
Nature Park Lonjsko Polje is a large ( 506 sq km) section of the flood plain located between Sava River and Moslavacka Gora Mountain. Situated along Lonja river , one of the retention basin of Sava river. Lonjsko Polje Nature Park is well known part of Croatia because of variety of flora and fauna that resides in the area.
Marshes of Lonjsko Polje as well as it's woodlands are wild ducks favorite nesting place. It is a natural habitat of some rare bird species too - white-tailed eagle and short-toed eagle, white egret, gray heron, black stork ...
The flooded area of Lonjsko Polje, where floods hold for up to six months, is one of the largest European hatching grounds of pike as well as some other animals - spotted Turopolje swine, wild boars, deer, roes, otters, beavers, wild cats..
Rakita and Draziblato, the areas of Lonjsko Polje, are under a stricter regime of nature conservation.
Croatian Posavac - a well known and protected horse breed originate from this area too.
Lonjsko Polje park is interesting in architectural terms too. Around the park and it's villages one can find various wooden houses - cottages, built in typical Posavina style. Those cottages are well preserved and if you are interested in this kind of architecture, it is worth to visit an visually enjoy this monument of Croatian architectural heritage.
While visiting Lonjsko Polje one can do bird watching, cycling, walking, boating or horseback riding on Croatian Posavac horses.
As far as hunting and fishing is concerned, it is a limited activity regulated by code of conduct of Lonjsko Polje Park Authority. ( check official Lonjsko Polje web page www.pp-lonjsko-polje.hr an excellent page about the area, with some fantastic photos of Lonjsko Polje's nature and architecture.)
Nature Park Lonjsko Polje is easily accessible from Zagreb by public transport or car or bicycle or from Sisak, Popovaca, Kutina, Novska or Nova Gradiska.
Medvednica or Zagrebacka Gora is a mountain close to the Zagreb, the capital of Croatia. It's highest peak is Sljeme - 1,032 m. Medvednica mountain stretches for 42 km and covers area of 240 sq km. Medvednica was always popular among tourist and travellers as well as walkers and hikers from surrounding areas. The first hiking object in Croatia was built on Medvednica in late 19th century.
Within the Nature Park there are several special forest vegetation reserves, which are protected on a higher level.
Medvednica is very good for walking and hiking day trips from Zagreb and it's surroundings as well as for skiing trips, as there are good skiing paths around the mountain together with ski - lifts, cafe's and lodging facilities. A cable-car operates throughout the year, connecting the foot of Medvednica in Zagreb with its peak. On Medvednica there are several accommodations facilities among them hotel Tomislavov Dom and some mountain lodges.
Medvedgrad - the restored mediaeval fortification is located on Medvednica too. as well as ruins of Susedgrad and Zelingrad - medieval fortification too.
Telascica, a large bay located on the south side of Dugi Otok – Island in Croatian's Adriatic Sea. Telascica is natural extension of Kornati islands - it is a very long bay – about 10 km, and it's width stretches from very narrow one ( about 160 m ) to almost 2 km.
Telascica consist of numerous small bays dotted around it : Cuska, Dumboka, Oscenica, Gozdenja, Rakvic, Krasevica, Mangrovica, Strizna, Tripuljak, Mir, Jaz , Pasjak .…
On the west, Telascica extends to small islands Donji and Gornji Skolj.
In the heart of Telascica are islands Farfarikulac as well as dramatic cliffs Gozdenja and Galijola. Korotan island is at the east side of Telascica, as well as islands Velika Aba and Katina. Small salt water lake Mir is part of Telascica, partly bordering by cliffs.
Northern coast of Telascica is bare, due to long years exposure to wind which caused erosion in the area. On south coast of Telascica, one can find a pine, olive and fig trees as well as low scrubs of Mediterranean vegetation. This part of the coast is detached from open sea by a narrow, forested ridge that ends as a steep shoreline.
The nearest village to Telascica is Sali, located on the east coast of Dugi Otok island.Telascica is very popular among sailing crowd, as safe haven for their boats and yachts.
Velebit is the largest Croatian mountain and it belongs to the Dynarian system. It extends in the NW-SE direction, taking hold of three Croatian regions: Lika, Dalmatia and Croatian seaside. Its natural boundariesare strictly marked: there's The Velebit channel of Adriatic Sea on one side and fields "Ličko i Gacko polje" on the other. From the South it's limited with the canyon of Zrmanja, and from the North it is separated from the spur of Kapela by a deeply engraved ablout Vratnik. The total lenght of Velebit is about 145 km, while its width is changing-the largest is up to 30 km on the Zavižan-Markovićeva rudina line. The mountain of Velebit is divided on The North, The Middle, The South and The South-East part. Such division is based upon its natural marks-geographical and relief ones.
Ucka is a mountain located in the eastern Istria - the largest peninsula in Croatia. The highest peak on Ucka is Vojak that is 1400 m high. Other high peaks include Plas (1285 m), Suhi Vrh (1333 m), Brgud (907 m), Kremenjak (827 m) and Sisol (835 m).
Ucka is long mountain too - it extend for almost 20 kilometers - all the way from Poklon pass to bay of Plomin. Ucka mountain has quite a few valleys and crossways as well as some caves too.
In climatic terms, Ucka is a huge barrier that, due to thermodynamic laws, forces warm air masses created over Adriatic Sea to rise high above and getting suddenly cooler. This process results in especially high rainfall in Ucka's surrounding areas. Therefore, vegetation and animal life on Ucka is very abundant. Coastal slopes of Ucka are covered in Mediterranean vegetation, while other parts are covered in oak and chestnut forests that give pleasant freshness in hot summers.
The very summit of Ucka is woth to climb on if nothing else but of stunning panorama. The panorama of Gulf of Kvarner bay includes sea and coastal towns, as well as the mountains in background: Obruc, Snjeznik and Risnjak - National Park of Croatia. On the western side the whole Istra peninsula lies in front of you. Sometimes, if visibility is good, view towards the north reachers up to Alps too.
Worth to visit at Ucka mountain are villages Vela and Mala Ucka, as they are the only villages that are located so high – at about 900 m! The main activity in these vilalges are agriculture and cattle as well as some tourism too. In the village Vela Ucka there is a well known inn, popular among tourists.
On Gulf of Kvarner coast, immediately below Ucka, all famous tourist resorts are situated: First - well known Opatija, with its luxurous hotels, and further along the coast Icici, Lovran and Moscenicka draga.
Ucka has 5 km long tunnel Ucka too - tunnel that connects Kvarner and Istria and provides easy access to Rijeka from the north.
Zumberak is a hilly region near Croatian capital Zagreb that cover area of about 300 square kilometers, rich in beech and chestnut forrests as well as various caves and abysses and underground streams. Zumberak is very rural area where main activities are linked to farming. Zumberak's villages are scattered around pastoral slopes of the hills on the hights above 400 m, hills that are covered by neat wineyards and fileds. Main villages of Budinja, Stojdraga, Gornja Vas, Ostrc and Sosice, are located along the roads that connects Zumberak with Zagreb and rest of Croatia.
Zumberak range (Gorjanci) is located in the border area of Croatia and Slovenia. A smaller part of the range - Samoborsko Gorje (Japetic, the highest top,hight 880 m) has been hikers and walkers destination for houndered years.
This part of Zumerak has many marked trails and paths, one of the Karlovac Hiking Transverse that pass throught attractive countryside that includes Sopote Waterfalls on Kupcina river as well as Slapnica brook therefore mountain climbing, hiking, hunting and angling are very popular in the area of Zumberacko Gorje.
Villages and old hill-forts and feudal castles are very attractive to see and walk around as well as to climb to the highest peak, Sveta Gera (1,178 m) on the very border with Slovenia.
There are several small and cozy villages worth to visit while in the area - Sosice, Ostrc, Tomasevci, Kalje, Stojdraga, as well as many on the Slovenian side of the mountain. All of them are connected by roads with larger places - Samobor, Bregana, Jastrebarsko and Ozalj.
Papuk is a mountain in Slavonia, the north eastern region of Croatia. Mountain Papuk is located ( see map on the left ) on the very edge of Pozeska Dolina ( Pozega Valley), the flat and fertile valley and is the only mountain in the area. The highest peak is Papuk with highs just under 1000 meters.
Papuk is popular walkers and hikers destination from mid 19th century, when local nobleman had a vision and started to create park of nature at Papuk around Jankovac Lake. Ever since then, walkers and hikers from all over Slavonia were visiting Papuk, enjoying it's spring waters and revitalizing forest, mainly oak and beach, vegetation.
Papuk has a several water springs - Cadavica, Karasica and Pakra - that add to attractiveness of the area as well as to freshness in the warm summer months.
Another tradition on Papuk is wine growing, so southern slopes of Papuk are full of tidy vineyards that are maintain by local wine growers.
There are several mountain lodges and visitors facilities on Papuk : the mountain lodge Lapjak (335 m) 3 km from Velika, the thermal spa Toplice (296 m) in the near vicinity of Velika, the mountain hut Trisnjica located 7 km from the Lapjak lodge. Also, facilities of the mountain rescue team on Nevolja (725 m), the ski-lift above Jezerce and mountain lodge Jankovac (475 m) on the northern side of Papuk.
Usual accesses to Papuk is via Lapjak lodge, Duboka, Jezerce and Nevolja (takes about 2 hrs) as well as Lapjak lodge, Maliscak to Papuk (takes about 4 hrs).
Access by road is from Lapjak lodge - Velicanka spring - Jankovac (16 km); or to Velika Papuk peak (17 km).
The asphalted road from Velika to Jankovac runs through the highest part of Papuk - Nevolja Prelaz with heights of around 700 m.
Nearest cities to Papuk are Osijek and Zagreb.
Vransko Jezero (VRANSKO LAKE), is the largest lake in Croatia, located in area called Ravni Kotari, northeast of Pakostane, near Zadar and Sibenik. Vransko Jezero covers area of about 30 square kilometers of marshes and waters and is rich in fish and birds life, therefore Vransko Jezero is designated a special ornithological reserve too.
Vransko Lake is very popular destination for freshwater fishing holidays as well as for bird watchers. Various bird species can be seen around the Lake like egret, yellow egret, small white egret, cackling cuckoo, wild ducks, grebes etc.
The easiest access to the lake is from the main road at Pakostane (400 m) or from Prosika.
In the near vicinity of Vransko Lake is camp 'Crkvine' - a large camp located in the woods, good as accommodation alternative.