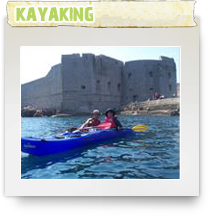 White-water kayaking
Clear and warm, green waters of Croatian rivers spring in the mountain foothills, run though canyons, and spill over limestone barriers in the sparkling curtains of waterfalls. It is their beauty that takes our breath away, not the danger sometimes inherent in them. However, if you are not an expert, you can always avoid high waterfalls and dangerous rapids, opting instead for the shore. High water levels in springtime offer a true and exhilarating white water experience, while summer tours are ideal for beginners. All major tourist centres organize daily kayaking excursions down the Rivers KupNovember 30, 2009 8:24 PMoldaniSivi">And while you glide silently down the river the landscape around you is ever changing - whether enclosed by a forest or opened up by a lake nestling in the embrace of a meadow. Watermills, wooden bridges, churches and monasteries all bear witness to the long standing tradition of a life with the river. The banks of the deepest and most thrilling canyons are reached only by the sun and by often barely negotiable tracks. Rowing along in your kayak you may well discover a site that even many local people have never seen. Although kayaking has a long tradition in Croatia and our rivers are amazing, it is not a mass sport. Once on the river you and your group will most often be alone with nature and her inhabitants - fish, birds, amphibians and small mammals.
Sea kayaking
Traveling by kayak through the Adriatic differs greatly from paddling experiences on oceans, on the Mediterranean or in the northern seas. A clear, warm sea, countless small coves and beaches, make sea kayaking on the Adriatic by far the best in Europe. On your voyages you will be accompanied by small shoals of fish, and encounters with tunas and dolphins are by no means rare. Travelling by kayak, you get to sea places that a yachtsman could never reach - hidden bays with sandy, pebble or rocky beaches, shallow lagoons, caves. Numerous cultural monuments, striking architecture and local customs complement and further enrich an already glorious experience.
From the Brijuni Archipelago in the north to the Elafiti islands and the island of Mljet in the south, island groups provide an ideal venue for an island-hopping adventure: from tiny port to tiny port, from bay to bay - just a few miles of rowing and many dockings. Distances between the islands are not great, and being in a kayak you can easily enter river mouths (Mirna, Zrmanja, Krka, Cetina or the Neretva delta).
The greatest interest is inspired by the national parks on some of the islands - Mljet, Brijuni and Kornati. It has to be stressed that each of those possesses its own quite specific qualities.
Located in front of the old Dubrovnik port is the tiny island of Lokrum, and on it an exceptional forest reserve. Each and every one of the thirteen Elafiti islands is a first class kayaking destination: wonderful nature, summer residences dating from the Renaissance period, small wooden churches and a serene life without motor vehicles. Quite apart from the features of interest, this will ensure regular provisions and a safe trip on the way from Cavtat or Dubrovnik, to Mljet.
The Croatian sea is relatively safe and pleasant for a kayaking trip. Most islands elongated in shape and run parallel with the mainland coastline, which means that one side is always protected from rough winds and waves. Regarding winds, you must reckon with the midday maestral, the NE bora and SE jugo (southerly).
Equipment
Due to the many very sharp rocks it is safer to use a polyethylene kayak rather than laminated or collapsible ones. Two-seater or single-seat polyethylene kayaks manufactured by recognized European producers are available for hire. It would be remiss of you not to bring along a mask, snorkel and flippers, since they enable you to enjoy the clear and rich underwater world. It is not difficult to find overnight lodgings in a camp, on an island, in a pension, apartment or hotel; nor is it a problem finding a shop to replenish your provisions.