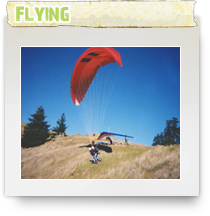 Paragliding, parachuting or balloon flights over an incredibly diverse landscape in good weather conditions continue to attract an ever increasing number of flying enthusiasts to Croatia.
A combination of mountains by the sea and the sun creates first class flying conditions, with the islands being by no means any less attractive. Those who come to enjoy a flying experience are not restricted to a single location. The mountains that run down the length of the coast are simply tailor-made for cross-country flights, for spending hours in the air, with vistas of the coast, the sea and the islands - an unadulterated adventure voyage under the power of the wind!
In contrast to the predominantly bare mountains on the littoral side, the mountains and vales of continental Croatia are blanketed in a wealth of greenery and forests. There are several sport airfields with a long tradition in glider flying, while Hrvatsko zagorje with its undulating landscape and its numerous burghs and castles, and the wide plains of Slavonia, are favourite destinations for balloonists. Beauty and diversity of landscapes is what makes recreational flying an enjoyment that is difficult to surpass.
Areas for the best flying experiences: Ucka and Cicarija, in Istria; Gorski kotar; Velebit; Mosor and the mountain of Dalmatinska zagora, up to Dinara. Further south there are Biokovo; Rilic; the Peljesac peninsula; the islands of Krk, Brac and Hvar. Green continental destinations: Hrvatsko zagorje; Medvednica; Samoborsko gorje and Zumberak; Papuk; Krndija, and Moslavacka gora.
Croatian fliers and parachutists are organized within clubs and private flying schools. They run schools and courses, organize tours and participate in international competitions. They are also the best source of useful information - how to register flights, how to obtain a permit, about weather conditions and any specific conditions existing in individual flying zones.