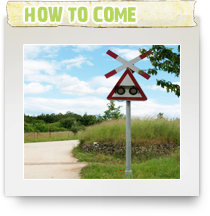 BY CAR
Documents
When arriving in Croatia by car it is requested that you carry a valid driver's license, car registration card and your Green Card (proof of car insurance)
Speed and alcohol limits
Speed limit in settlements is 50 km/h and 80 km/h in out of settlements (unless stated differently). On highways a speed limit is 130 km/h.
The maximum permitted level of alcohol in the blood is 0‰.
Bridge and tunnel tolls
You have to pay tolls also on these roads: Ostrovica-Kupjak, Ucka Tunnel and Krk Bridge.
Petrol stations
Petrol stations are open from 7 am to 7 pm or 8 pm every day and during the summer until 10 pm
there are also petrol stations that are opened round the clock in the larger towns and on main international routes. All petrol stations sell: Eurosuper 95, Super 98, Normal and Euro Diesel
Taxi service
This service is available in all cities and tourist places
Rent-a-Car
This service is available in all cities, tourist resorts and airports
Foreign visitors do not normally require visas to enter Croatia - to check if you require a visa, visit the Croatian Ministry of Foreign Affairs' webpage. If you do need one, please contact the Croatian Embassy in your country for more information on how to obtain a visa.
PHOTOGRAPHS OF TRAFFIC CONDITIONS - HAK
BY PLANE
Croatia - City & Airport transfers
International airports
Zagreb, Split, Dubrovnik, Pula, Rijeka, Zadar and Osijek. Only smaller planes can land at the Brac and Losinj airports.
Information
Zagreb 01 / 6265-222
Split 021 / 203-171
Dubrovnik 020 / 773-222
Pula 052 / 550-900
Rijeka 051 / 842-132
Zadar 023 / 313-311
Osijek 031 / 297-438
Brac 021 / 648-615
Losinj 051 / 231-666
Sport airports
Varazdin, Pribislavec (Cakovec), Lucko, Vrsar, Grobnik, Otocac and Sinj.
Croatia Airlines
The national airline company flying to and from Amsterdam, Berlin, Brussels, Düsseldorf, Frankfurt, Istanbul, Copenhagen, London, Madrid, Milan, Moscow, Munich, Paris, Prague, Rome, Sarajevo, Skopje, Vienna, Zurich, Tel Aviv, and, seasonally, to Manchester.
Other airline companies flaying to Croatia
Adria Airways, Aeroflot, Air Bosnia, Austrian Airlines, Air France, Avioimpex, British Airways, ÈSA, Lufthansa, Malaysia Airlines, Malev and Swissair.
BY SEA
International ferry lines
Zadar - (Brbinj/Dugi otok) - Ancona
Sibenik - Ancona
Korcula - (Stari grad/Hvar) - Split - (Vis) - Ancona
Pula - Venecija
Dubrovnik - Bari
Ferry lines along the coast
Rijeka - (Rab) - (Zadar) - Split - (Stari Grad/Hvar) - Korcula - (Sobra/Mljet) - Dubrovnik - Bari
Local ferry lines
Local ferry lines connect the following islands with the mainland: Cres, Losinj, Rab, Pag, Ugljan, Pasman, Dugi otok, Iz, Solta, Brac, Hvar, Vis, the Peljesac Peninsula, Korcula, Lastovo and Mljet, and local ship and fast-ship lines connect other inhabited islands on which there is no car traffic.
Jadrolinija
The main Croatian ship passenger carrier keeps the majority of the regular, international and domestic ferry and shipping lines. The main office is in Rijeka (051/666-100).
Customs
Customs branch offices for entering of foreign ships are: Umag, Porec, Rovinj, Pula, Rasa/Brsica, Rijeka, Mali Losinj, Senj, Maslenica, Zadar, Sibenik, Split, Ploce, Metkovic, Korcula and Dubrovnik, and during the summer season also in Kanegra, Novigrad, Bozava, Sali, Ravni Zakan, Primosten, Hvar, Vis, Komiza, Vela Luka and Ubli.
BY TRAIN
The Railway connects all major Croatian cities, except Dubrovnik. Croatia has direct connections with Slovenia, Hungary, Italy, Austria, Switzerland, Slovakia, France, Germany, Bosnia and Herzegovina, Serbia and Montenegro, and indirect connections with almost all other European countries.
Eurocity and Intercity
EC "Mimara" Munich - Salzburg - Villach- Ljubljana - Zagreb
IC "Croatia" Vienna- Maribor - Zagreb
IC "Kvarner" Budapest - Zagreb - Rijeka
IC "Drava" Budapest - Cakovec - Ljubljana - Venice
BY BUS
Bus lines connect all parts of the country. Regular international bus lines connect Croatia with all neighboring countries, as well as most of middle European and west European countries.
HOW TO GET TO KVARNER

- by air - Rijeka airport ( located on Island Krk ) is the only airport in the area that connects Zagreb as well as other European airports with Kvarner. Pula airport is useful alternative too.
- by boat - In the summer , one can reach Kvarner by a catamaran that sails from Venice to Mali Losinj as well as to Zadar, Istria, Italy and Slovenia.
Jadrolinija, national ferry line sails from/to Rijeka to Zadar, Split and Dubrovnik stopping on some of Dalmatian islands too. There is also, numerous local Jadrolinija ferry lines that connects Kvarner islands with it's mainland. Check Jadrolinija timetable.
- by bus - A frequent bus service runs from Zagreb to Rijeka, as well as buses that runs along Croatian coast all the way from Dubrovnik and beyond.
- by train - Rijeka has a train station, and is is connected with Zagreb by frequent daily train service.
HOW TO GET TO DALMATIA
- by boat
One can reach Dalmatia directly by ferries from Italy - from Ancona, Bari and Pescara , as well as by Jadrolinija ferries which are sailing along Dalmatian Coast from North Adriatic's city Rijeka. Numerous local ferry lines connect Dalmatia mainland with it's islands too.
- by plane
Zadar, Split, Dubrovnik and Brač island have airports that are served by various airlines
- by bus
Various and frequent bus services run from Zagreb Bus Station to the Dalmatian cities and towns as well as coast. Also there is a frequent bus service along Dalmatian coast that connects Dubrovnik with Split , Zadar and Rijeka as well as all other stops on the route.

- by train - Train services runs from Zagreb to Split and Zadar.
HOW TO GET TO SLAVONIA
- by plane: Osijek and Zagreb are airports that serves Slavonia.
- by bus: Various and frequent bus services run from Zagreb Bus Station to the Slavonian cities and towns.
- by train - Train services runs from Zagreb to various Slavonian towns and places.
- by boat : boats are sailing along Danube river, connecting Western Europe with places all along Danube up to it's end in Black Sea....
HOW TO GET TO LIKA, GORSKI KOTAR AND HRVATSKO ZAGORJE
- by plane: Rijeka and Zagreb are airports that serves Central Croatia.
- by bus: Various and frequent bus services run from Zagreb Bus Station as well as from Rijeka, Split and Zadar to the various croatian cities and towns in the region.
- by train: Train services runs from Zagreb to Rijeka and some other places.
- by boat: by ferry from Italy to Rijeka or Dalmatia and then bus towards Rijeka and Zagreb...