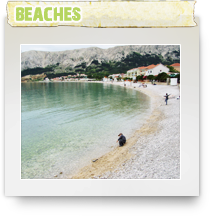 The most of the beach along Croatian coast are rock beach (about 75%) and the rest (about 25%) are pebble beaches. Pebble beaches are usually situated in the bays and the promontories are always rock made. Sandy beaches are quite rare, but it is usual that every good beach (near cities) have an little part with sand for children.
Nearby cities the beaches are settled by paths and cement terraces to facility the access to the sea. These "constructions" are usually made environmentally compatible and in some places (Riviera of Opatija ...) is hard to imagine that the coast could have ever been different or more beautiful. The water, prevalently, isn't immediately deep and even bad swimmer can enjoy it. Anyway, for the beaches in Croatia, the shoes for a beach are strongly recommended.

The main advice about beach choice is - don't place you in the nearest beach which one is usually full of the people. There is no private coast in Croatia, almost all beaches are free and all coast is the beach. Try to find some part of it only for yourself, or find some island - you can rent a boat and reach the most beautiful places hardly accessible by road. If you go by car, you will see outside of cities unexpectedly the cars parked along road - that "means" that an nice beach is near.
There are special beaches and camping for a nudists (with FKK sign), but usually outside of cities all beaches become for nudist or "mixed" (in Dugi Otok island, for example).
Croatia has 1777 km of indented coastline, including 1185 islands, islets andcliffs, of which 47 are inhabited. The coastline and beaches are mostly coveredin rocks, sand and pebbles with numerous inlets and capes. The vegetation is mostly coniferous (pine, larch, cypress...), whereas, in some areas of Istria and Kvarner,shade will, besides conifers, also be provided by Sessille oaks. High and lowtide have relatively small amplitudes of about 0,5 m.
Besides the crystal clear and clean sea, the main characteristic of Croatia'scoast are its diverse beaches, where everybody can find something to suit theirtaste: shallow sandy or pebble beaches for families with children, romantic andsecluded bays or cliffs, well known and famous beaches with entertainment facilities,nightlife and sports offer, windy bays and channels for windsurfers, quiet baysand cliffs for diving enthusiasts...
The majority of beaches in Croatia are rockyor pebble beaches, while you can also find a small number of sandy beaches.
Beaches you must visit
Brela Berulija Beach and Punta Rata - Brela, Zlatni Rat - Bol (island of Brac), Banje Beach and Lokrum - Dubrovnik, Vela Plaza Beach - Baska (island of Krk), Rajska plaza Beach - Lopar (island of Rab), Crveni Otok - Rovinj, Zrce Beach - Novalja(island of Pag), Suncana uvala - Mali Losinj (island of Losinj), Milna and Dubovica - island of Hvar, Pinija Beach - Petrcane, Raduca Beach - Primosten, Makarska, Zelena Punta, Kukljica - island of Ugljan, Drazica Beach - Biogradna moru...
Sandy beaches in Croatia
Trincel - island of Pag, Lumbarda - island of Korcula, Lopar - island of Rab, Sabusa, Jelenica and Kostanj - island of Ugljan, Lapad - Dubrovnik, Trstenica - Orebić, Slanica - Murter, Bayof Saplunara - island of Mljet...
Beaches for entertainment and fun
Zrce Beach - Novalja (island of Pag), Porec, Pudarica - Barbat (island of Rab), Banje - Dubrovnik, Saharun Beach - Dugi otok, Zlatni rat - Bol (island of Brac), Vodice, Bacvice Beach - Split, Slanica - Murter, Jelsa - island of Hvar, Girandella Beach - Rabac...
Beachesfor families with children
Bay of Klimno - island of Krk, Brela, Crikvenica, Jelsa, Medena - Trogir, Zaton - Zadar, Korcula - island of Korcula, Vela Plaza Beach - Baska, Makarska, Rajska plaza Beach - Lopar, Rovinj, Dugi Rat - Omis...
The best windsurfing destinations
Zlatni Rat - Bol (island of Brac), Punat - island of Krk, Viganj, Orebic - Peljesac, Premantura - Medulin, Girandella/Ravni - Rabac, Jadrija - Vodice,Savudrija - Umag, Bayof Preluk - Opatija...
The best diving destinations
Island of Cres, island of Losin, Lucica Cave - island of Brac, Pakleni islands - Hvar, Elaphiti islands - Dubrovnik, island of Rab, Rovinj, Porec...
source: Generalturist
News about beaches in Croatia:
Hvar Beach Club (Croatia) in 20 hottest European beaches for 2010- The 20 hottest European beaches for 2010- The Sunday Times