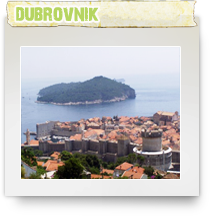 City, port and tourist center of southern Dalmatia, located at the foot of Srd Mountain. It has a rich political and cultural history, and has been placed on the UNESCO World Heritage List. Due to its beauties and extensive tourist offer, Dubrovnik is one of the most attractive destinations on the Mediterranean. Tourists visit Dubrovnik throughout the whole year. Tourism started to develop before WWI. Besides world-renown monument heritage, the area has beautiful rocky, concrete, pebble and sandy beaches, as well as Mediterranean climate and vegetation. It is also known as the city of hotels and restaurants. Its offer includes various types of accommodation facilities (hotels apartments, rooms, camping sites), extensive selection of first class restaurants, numerous sports and recreational activities, as well as cultural and entertainment events. The gastronomic offer encompasses Croatian and international cuisine. The economy is based on tourism and maritime activities.
Destination Dubrovnik
We recommend:
Tour of the old part of the city where numerous cultural and historic monuments, as well as museums can be found. Walks on the city fortification walls, visit to the Rector's Palace, Maritime Museum, museums of the Franciscan and Dominican monasteries, city cathedral, Rupe Ethnographical Museum and the Aquarium of the Biological Institute.
Additional facilities:
The sports and recreational offer includes fields and equipment for all sports, both on land and in water, from table tennis and sailing, to windsurfing, diving, parasailing and bungee jumping. You also have at your disposal fitness centers with pools, saunas, massage, aerobics and solariums. Those interested in windsurfing courses can visit the windsurfing club Maka. On the same beach (Copacabana), there is also a diving club called Navis and jet-ski rental. Cultural and entertainment events include the well-known Dubrovnik Summer Festival (theater, music and folklore festival) held from July 10 to August 25, as well as Dubrovnik carnival, whereas the best-known celebration is sv. Vlaho day on February 3, also the day of the city of Dubrovnik. Those interested in diving courses can visit one of the following diving clubs: Navis, Nimar and Solaris. The hotels Excelsior, Grand Villa Argentina, President, Dubrovnik Palace, Kompas, Grand Hotel Park and Lero have congress centers of different capacities. The airport lies in Cilipi, some 20 minutes away.
Highlights of the Place:
The cultural and historic city of Dubrovnik, surrounded by fortification walls, the pearl of the Adriatic.
source: Generalturist