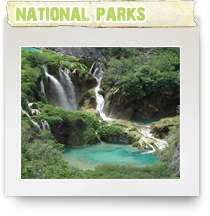 Destination Plitvice Lakes
General information:
The most famous national park in Croatia. It is a phenomenon of Karst hydrography, consisting of 16 connected cascading lakes with numerous waterfalls, surrounded by a forest of beeches, firs, spruces and pine trees. Due to its natural beauty, Plitvice Lakes National Park has been entered on UNESCO World Heritage List in 1979. Plitvice is open throughout the whole year. Numerous trails lead you through the National Park.
Furthermore, you can go sightseeing by tourist boat or train.
We recommend: Excursions to the mountain peak Ostri Medvjedak that lies 5,5 km from Plitvice.
source: Generalturist